The lovely Bloom.com sent me the most gorgeous palette of Stila eyeshadows... They actually sent me 2, but 'In the Garden' was my favorite, due to its versatility in texture (matte, sheer, shimmer, oh my!), so that's the one I'm going to show ya'll now :)
On a side note, my computer always turns ya'll into 'yawl'... like, a super phonetic version of the non-word. I love it.
Anywho, I love Stila. I love makeup in general, really. The sad truth is that I rarely wear it anymore. Dolled up to go to Tractor Supply? Not likely. Since I've had Mason I have not even TOUCHED my train case chalk full of colorful wonderfulness. As a matter of fact, when I decided to pull it out this evening to find a backup of my brow powder (my primary one fell into Crue's training potty. His *full* training potty... bleh), I discovered so many things I forgot I had. It was an hour of *OMG, I forgot about this Bobbi Brown palette*, and *ack, I LOVE this lipstick!*... great fun was had by all. And by all, I mean me and my amused husband.
I've tried lots and lots (and lots) of eyeshadow in my day. I was around when MAC was MAC, and not an Estee Lauder brand. Ive seen brands come and go (Calvin Klein cosmetics, anyone?), I've viewed countless 'eyes of the day', or 'faces of the day' in my beloved Myspace makeup groups, and I have to say... Stila is sadly under rated. This is a brand that I feel isn't quite trendy enough for the MAC lovers, or mature enough for the Bobbi Brown wearers, but lies somewhere in the middle. The price point is a little higher than say, Clinique, but I find their quality to be worth the splurge.
'In the Garden' is just lovely. It has all a girl could ask for in an eyeshadow palette.
From left to right:
Top Row
Chinois- matte bone color
Breeze- shimmery champagne
Bark- shimmery sage
Freesia- Shimmery violet blue
Rosette- Shimmery violet (looks much less pink in person)
Bottom Row
Nectar- matte beige
Honey- Shimmery golden beige
Sage- sheer sage green shimmer
Moss- Olive shimmer with gold flecks
Juniper- Deep teal green shimmer
I have tried a few looks with these, just playing around at home (and rediscovered my love for green eyeshadow <3) but none I loved as much as this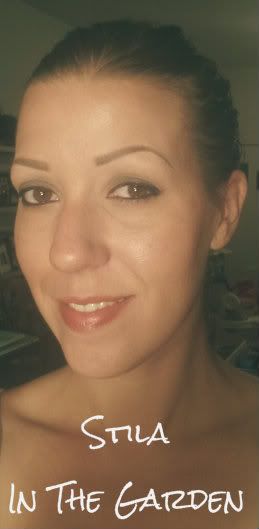 Okay, okay... I know its hard to see the EXACT colors I used when I put the 'instagram-ish' filter on... but seriously, the original made me mad at my skin, and the lighting in my bathroom for lying to me. So, rather than redo it all, I hipstered myself. You're welcome.
So, for this look, I used Juniper from lashline to crease... I really packed it on there with a short bristled, flat brush. I also used a primer (always). Then I blended with a fluffy brush using Nectar. I decided to add a little Honey to the inner corners to jazz it up a bit. I finished off with Chinois on the brow bone. I lined with the smudgestick in 'Starfish' that comes with the palette (Bloom.com didn't send me one, but I bought my own!)
I adore this look... it's right up my alley. I finished it off with my Blood Orange lip tint from
Pacifica
, and voila!
If you like this look, you can get
In the Garden
at bloom.com, and you always get 10% cash back (sometimes more!)
While we're talking makeup, let's talk about taking it OFF. Please don't sleep with your makeup on. This is a public service announcement brought to you by your pillowcase, your pores, and your mom.
I used
Kaia
Bamboo cleansing clothes, and it took ONE to remove all this... including newly applied mascara! They smell heavenly (like sweet fruit, kind of... but not overly so), and really get the job done. They are a little spendy, but if you travel at all, you know a good makeup removing cloth is worth it's weight in gold. These rule. They also didn't make my eyes red or burn. I always wondered why anyone would make a product made for rubbing around your eyes that makes them feel like you poured sriracha all over your face. These don't.
Thanks for reading, it's midnight. G'night :)
-C